Tip of the Hat
Pie!
Welcome to this week's Tip of the Hat!


This week marks the beginning of the end – the US holiday season begins, and we start wrapping up the 2019 year. Some of you will be gathering with friends and family, some of you will be traveling, and some of you will be working away, taking advantage of the quiet office this week.


One thing that you might encounter this week is pie. Here are some pie recipes to get you through the week. We'll be back next week with the latest news and updates in the library privacy world!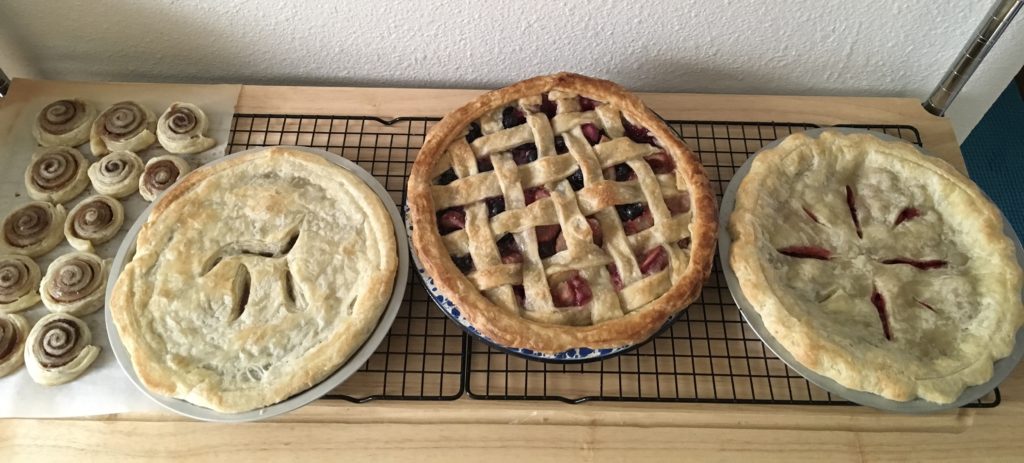 Genelda's Flaky Pie Crust
2 ¼ C lard (can be a little soft)
Mix together with pastry cutter. Roll out on a floured surface. Makes around 6 single crust or 3 double crust pies (9 inch pan).


You can mix the first 3 ingredients and leave on counter in an air tight bowl for 3-4 weeks. When ready to make pie, take out approx. 1 C of mixture, add a little cold water and roll out for pie


Cranberry Pie
From the 1941 cookbook of The Infant Welfare Circle of the King's Daughters, Appleton, WI


Preheat oven at 450 F. Mix cranberries, sugar, water, salt, and tapioca, and let stand a half hour. Put mixture into unbaked pie crust, dot with butter, and cover with an upper crust. Bake at 450 degrees for 15 minutes, reducing heat to 350 degrees the last 35 minutes.


Genelda's Pumpkin Pie
Preheat oven at 400 F. Mix pumpkin and eggs together. Add sugar, beat. Add milk, beat. Add cinnamon, beat. Add salt, beat. Add allspice, beat. Pour mix into 2 unbaked pie shells. Bake in 400 F oven for 45 minutes. Serve with whipped cream (ok, that was my addition, but it's good with whipped cream!).