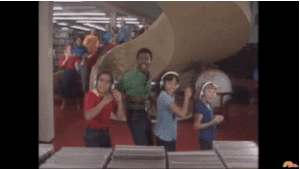 Welcome to this week's Tip of the Hat, and happy National Library Week! To celebrate all things library, here are some library privacy resources to check out* this week:
Choose Privacy Everyday
Every year, ALA's Office of Intellectual Freedom hosts Choose Privacy Week, usually around the first week in May. This site contains a multitude of information and resources for training, event and outreach planning, and other information to implement better privacy practices at libraries. This year's theme for Choose Privacy Week is Inclusive Privacy: Closing the Gap.
How did we get here: A zine about privacy at the library
This is a great primer for those looking for an overview of the various factors playing into the relationship between libraries and privacy. Print it out or download the file and send it around your workplace! If folks are interested in learning more, the companion site gives folks a more detailed overview of the history of the privacy-library relationship.
Library Values and Privacy Summit Report
2018 was a bumper crop year for IMLS-funded projects and forums surrounding library privacy. One of the first in 2018 was the Library Values and Privacy Summit in New York City. The final meeting in the "Library Values & Privacy in our National Digital Strategies: Field guides, Convenings, and Conversations" project, 30 participants from various library, civic, and privacy organizations focused on various issues surrounding library privacy in several areas, including vendor relations, training, learning analytics, and staff and patron training.
National Web Privacy Forum Report
Another IMLS-funded forum took place in September 2018, bringing together 40 library, privacy, education, and technology professionals to take the first steps in creating practical action plans surrounding the enhancement of web privacy. The action plans range from dashboards and values-based assessment to privacy leadership training and education and outreach in tribal educational institutions.
Library Freedom Project
Last but not least we end with the Library Freedom Project. You might have first heard of the Project with their work surrounding Tor as well as the HTTPS Pledge. Recently the LFP co-launched the Library Freedom Institute, a six-month program educating library workers to become Privacy Advocates at their library as well as their community.
The Executive Assistant's entry – The Library Cats Map
This page is no longer kept up to date, but is a good historical snapshot of the various library cats that have graced the stacks of various libraries.
*Pun semi-intended.