Welcome to this week's Tip of The Hat!
This week's newsletter is inspired from last week's #ChatOpenS Twitter chat about patron privacy, where the topic of #dataspringcleaning made its appearance.
I'm starting the hashtag #dataspringcleaning — I need to do this in my personal life, too! https://t.co/ueVfafKDQ0
— Equinox OLI (@EquinoxOLI) March 13, 2019
Springtime is around the corner, which means Spring Cleaning Time. While you are cleaning your physical spaces, take some time to declutter your data inventory. By getting rid of personally identifiable data that you no longer need, you are scrubbing some of the toxicity out of your data inventory, and lessening the privacy risks to patrons.
When you are done with data, what do you do with it? First, you need to check in to see if you are truly done with that data. Unfortunately, we cannot use Marie Kondo's approach by asking if the data sparks joy, but here are some questions to ask instead:
Is the dataset no longer needed for operational purposes?
Are you done creating an aggregated dataset from the raw data?
Is the dataset past the record retention period set by policy or regulation? Don't forget about backup copies as well!
Once you have determined that you no longer need the data, it's time to clean up! For data on paper – surveys, signup or sign in sheets, reservation sheets – shred the paper and dispose of it through a company that securely disposes of shredded documents. Resist the temptation of throwing the shredding into the regular recycling bin – if your shredder shreds only in long strips, or otherwise doesn't turn your documents into tiny bits of confetti, dumpster divers can piece together the shredded document.
Electronic data requires a bit more scrubbing. When you delete electronic data, the data is still there on the drive; you've just deleted the pointer to that file. Using software that can wipe the file or the entire drive will reduce the risk of someone finding the deleted file. There are free and paid software options to complete the task, depending on your system and your needs (hard drive, USB sticks, etc.).
And now we get to the fun part of deleting data. Any disc drives, CDs, floppy disks, or (where I give my age away) backup tape drives that held patron data need to be disposed of properly as well. Sometimes you are close to a disk disposal center where you can destroy your drives via degaussing machines. If you can't find a center, then you have to literally take matters into your own hands. Remember that scene from Office Space with the printer?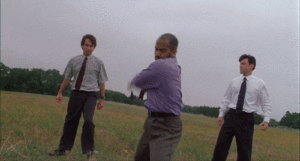 That is what you are going to do, but with safety gear. Hammers, power drills, anything that will destroy the platters in the drive or the disk itself – just practice safety while doing so!
And who says that cleaning can't be fun?
Resources to get you started: