Welcome to this week's Tip of the Hat and to the unofficial start of summer. This week's newsletter comes to you in two parts as you get back into the work routine after the holiday weekend.
Trackers, trackers everywhere
Many of you probably have at least some protection against web site trackers in your browser of choice, but do you know the true extent of user tracking on the web – perhaps even the website for your library or business? The Firefox Lightbeam add-on provides a comprehensive overview of the various trackers on a website that you'd otherwise miss if you try to compile this information on your own. The overview not only captures trackers from the web site but also third-party trackers. Once you have installed the add-on, disable your tracker blockers and browse the web, and Lightbeam will visualize how you are being tracked throughout your entire web browsing session. Give this tool a try if you want to get a sense of the extent of tracking of library patrons visiting multiple sites across different owners (for example, a patron going from a library home page to search for an ebook, landing on a results page in the discovery layer, and then going to the ebook vendor's site). H/T to SwiftOnSecurity for tweeting about the extension!
Stickers, stickers everywhere
The Executive Assistant has been busy as LDH prepares for our trip to ALA Annual in DC, but she's found some time to give us a sneak peek of what will be available at our table…

For those who will be at the Exhibit Hall Grand Opening on Friday, June 21st, we will have laptop stickers! Below are the two designs that will be available: a hat sticker and a hexagon sticker.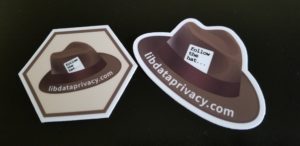 Subscribers to this newsletter don't have to wait until Annual to get their stickers – reply to this email and we will mail a few stickers your way. Stick them to your laptop, your door, your water bottle, or any other place where you want to tell folks that you care about library privacy and to "Follow The Hat." Many thanks to Scott Carlson for creating the sticker design.