Welcome to this week's Tip of the Hat!
Last week was a busy week on both state and federal privacy regulation fronts, and it was a busy week for one-half of LDH too due to jury duty! The Executive Assistant was tasked to keep an eye on the state and federal updates; however, when asked for the report, the Executive Assistant was not forthcoming: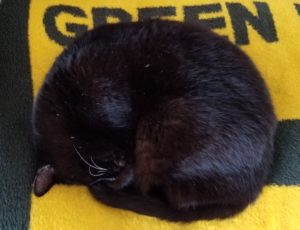 While we catch up from a very busy week of updates, let's talk about checklists.
Many of us use checklists each day, either as a to-do list, or to confirm that everything is in place before opening a library, or launching a new online service. Checklists can help prioritize and direct focus on otherwise large nebulous encompassing things, making sure that the important bits are not overlooked.
When we talk about privacy, many folks become overwhelmed as to what they should be doing at work to protect patron privacy. Libraries, in particular, have many bases to cover when it comes to implementing privacy best practices, ranging from electronic resources, public computing, websites, and applications. Where does one start?
In 2016, the ALA Intellectual Freedom Committee published the ALA Library Privacy Guidelines, aimed to help libraries and vendors in developing and implementing best practices surrounding digital privacy and security:
E-book Lending and Digital Content Vendors
Data Exchange Between Networked Devices and Services
Public Access Computers and Networks
Library Websites, OPACs, and Discovery Services
Library Management Systems
Students in K-12 Schools
There is a lot of good information in these guides; however, we run into the same overwhelming feeling when reading all the guides, not knowing where to start. Enter the checklists!
To give folks direction in working through the Library Privacy Guidelines, volunteers from the LITA Patron Privacy Interest Group and the Intellectual Freedom Committee's Privacy Subcommittee created Library Privacy Checklists for each corresponding Guideline. Each checklist is broken down into three sections:
Priority 1 lists best practices that the majority of libraries and vendors should take with minimal additional resources. These practices are a baseline, the minimal amount that one needs to do to protect patron privacy.
Priority 2 are practices that will require a bit more planning and effort than those in the previous section. These practices can be done with some additional resources, be it in-house knowledge/skills or external vendors or contractors. Depending on the checklist, many libraries and vendors can implement at least one practice in this section, but some might not be able to go beyond this section.
Priority 3 are practices that require a higher level of technical skill and resources to implement. For those libraries and vendors that have the available resources, this section gives guidance as to where to focus those resources.
These checklists break the ALA Library Privacy Guidelines down into prioritized, actionable tasks for libraries and organizations to use when trying to align themselves with the Guidelines. The prioritization helps those organizations with limited resources to focus on core best privacy practices as well as giving more resourced organizations guidance as to where to go next in their privacy efforts. These checklists can also be used as a foundation for conversations about overall privacy practices at an organizational level, which could turn into a comprehensive privacy program review. There are many ways one can use these checklists at their organization!
The checklists were published in 2017; nevertheless, even though the technological landscape rapidly changes year to year, many of the practices in the checklists are still good practices to follow in 2019. Take some time today to visit revisit the checklists, and think about how those checklists can help you address some of your organization's privacy questions or issues.